Lady Gaga's artRave – Melbourne (23-24/08)
Posté le 26 août à 12 h 33 min par Nattie GaGavision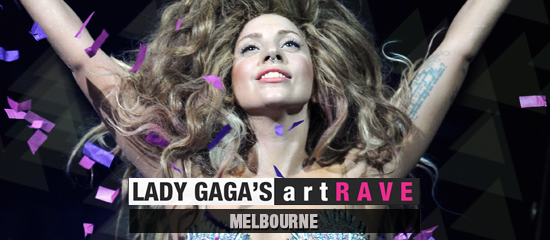 Après son show à Perth, Lady Gaga a continué son chemin en Australie avec deux dates consécutives dans la Rod Laver Arena de
Melbourne
, le
23
et le
24 Août
.
► SAMEDI 23 AOÛT :
Le show du 23 Août n'a pas connu de changement particulier. Après avoir offert des pizzas et envoyé un petit mot à ses fans qui attendaient devant l'hôtel, Gaga a réalisé le premier show de Melbourne en invitant trois fans pendant Born This Way, et en 'dédiant' Dope à un critique : « Je dédie cette chanson au critique qui m'a accusée de faire du playback à Perth… Va te faire foutre connard ! »
Découvrez les photos et vidéos du concert :

[Voir photos]

► DIMANCHE 24 AOÛT :
Le show du 24 Août s'est de nouveau déroulé comme d'habitude, si ce n'est que… Gaga a interprété un extrait de la chanson leakée Brooklyn Nights, juste avant Manicure ! Il semblerait cependant qu'elle l'ait chantée suite à la demande d'un fan, elle ne serait donc pas intégrée à la setlist du concert. Gaga a également invité une petite fille sur scène pendant Poker Face !
Découvrez les photos et vidéos ci-dessous.
Réseaux sociaux – Semaine du 18/08 au 24/08
Posté le 25 août à 19 h 00 min par Christelle GaGavision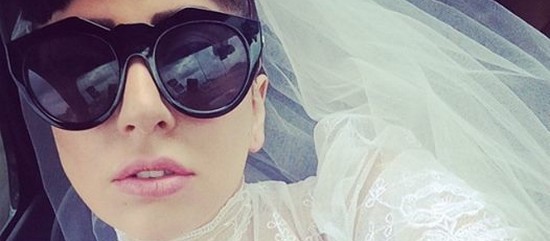 Lady Gaga dans Sin City 2
Posté le 25 août à 16 h 30 min par Sonya GaGavision
Nous vous l'annoncions en
mars dernier
, Lady Gaga va faire une nouvelle -courte- apparition cinématographique dans le nouveau film de Robert Rodriguez et Frank Miller :
Sin City 2 (A Dame To Kill For)
. Le trailer officiel a été dévoilé aujourd'hui, découvrez le ci-dessus (Gaga y apparait à 2mn48). Le film sortira en salle aux US le 22 aout, la sortie en France est quant à elle prévue pour le
17 septembre
.

MAJ 21/08 : Découvrez les affiches promotionnelles officielles pour le personnage de Gaga (dont une nouvelle) !






MAJ 25/08 : Découvrez dès maintenant la scène entière de Gaga dans le film en version originale (en LQ) !
Happy Birthday to us !
Posté le 25 août à 1 h 03 min par Sonya GaGavision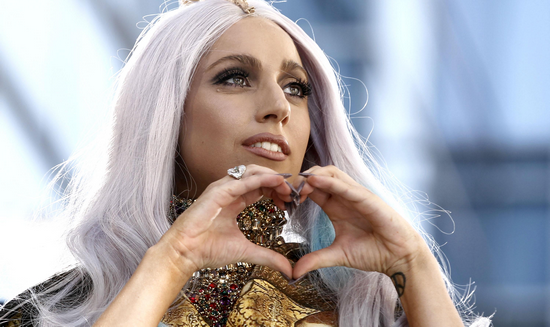 Gagavision fête aujourd'hui son 6eme anniversaire ! Que le temps passe vite… Déjà plus de 5300 articles, plus de 176 000 commentaires et plus de 7 millions de visites !!! Un grand MERCI à tous les fidèles qui nous suivent depuis tant d'années, merci également aux petits nouveaux :) L'aventure ne fait que commencer <3 #GagavisionFamily #PawsUp
Lady Gaga's artRave – Perth (20/08)
Posté le 23 août à 13 h 08 min par Nattie GaGavision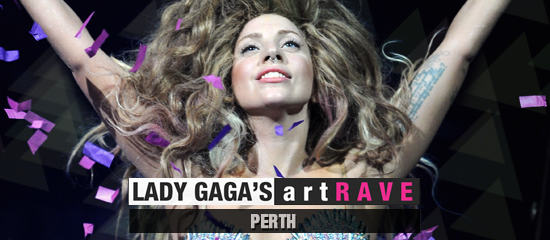 Le
20 août
dernier avait lieu le premier show Australien de l'artRave, dans la ville de
Perth
. Gaga aurait annoncé pendant ce concert qu'elle reviendrait pour la tournée de Cheek to Cheek – cela confirmerait donc une tournée mondiale, et non pas seulement américaine !
Aucun changement notable au niveau du spectacle, cependant
les membres du groupe Queen étaient présents
, avec Adam Lambert (Gaga les a bien sûr mentionnés sur scène). De plus, elle a
enlevé sa perruque
à la fin du show, après Gypsy
[voir]
!
Découvrez les quelques photos et vidéos disponibles :
Emission spéciale Cheek To Cheek sur HSN
Posté le 19 août à 18 h 36 min par Sonya GaGavision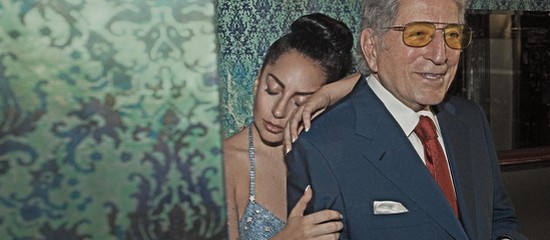 Après PBS, c'est au tour de la chaine américaine HSN de proposer la diffusion, le 13 septembre prochain, d'une émission spéciale à l'occasion de la sortie de l'album « Cheek To Cheek ». C'est sous la forme d'un documentaire d'une heure entière que nous pourrons découvrir des sessions vidéos inédites de Tony Bennett et Lady Gaga qui ont été filmés durant le processus de création de l'album ainsi que durant l'enregistrement en studio.
Cheek to Cheek – Pochettes et Tracklist
Posté le 18 août à 20 h 37 min par Nattie GaGavision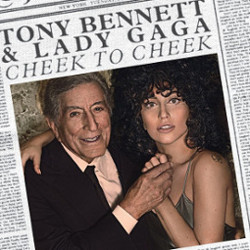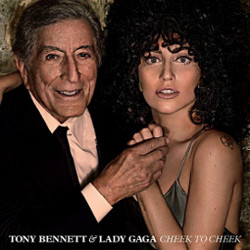 Lady Gaga vient de dévoiler sur les réseaux sociaux les deux pochettes pour 'Cheek to Cheek', son album de jazz en collaboration avec Tony Bennett ! Vous pouvez les découvrir dès maintenant ci-dessus : à gauche la version standard, et à droite la version deluxe.
Elle a également révélé que les pré-commandes commenceraient le 19 Août aux USA / Canada / Mexique, et le 20 Août dans le reste du monde ! Pour rappel, l'album sortira le 22 septembre prochain en France.
Que pensez-vous des pochettes ?

MAJ 19/08 : L'album étant aujourd'hui en pré-commande aux Etats-Unis / Canada / Mexique, la tracklist officielle est désormais disponible !
1. Anything Goes – Tony Bennett & Lady Gaga
2. Cheek to Cheek – Tony Bennett & Lady Gaga
3. Don't Wait Too Long – Tony Bennett *
4. I Can't Give You Anything But Love – Tony Bennett & Lady Gaga
5. Nature Boy – Tony Bennett & Lady Gaga
6. Goody Goody – Tony Bennett & Lady Gaga *
7. Ev'ry Time We Say Goodbye – Lady Gaga *
8. Firefly – Tony Bennett & Lady Gaga
9. I Won't Dance – Tony Bennett & Lady Gaga
10. They All Laughed – Tony Bennett & Lady Gaga *
11. Lush Life – Lady Gaga
12. Sophisticated Lady – Tony Bennett
13. Let's Face the Music and Dance – Tony Bennett & Lady Gaga
14. But Beautiful – Tony Bennett & Lady Gaga
15. It Don't Mean a Thing (If It Ain't Got That Swing) – Tony Bennett & Lady Gaga
* Pistes de la version Deluxe de l'album