Réseaux sociaux – Semaine du 24/11 au 30/11
Posté le 1 décembre à 9 h 30 min par Christelle GaGavision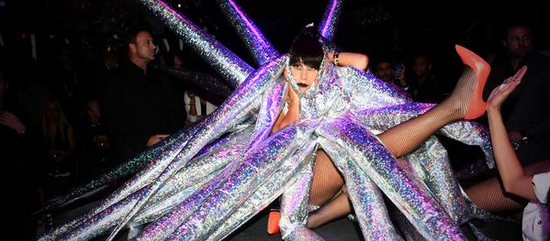 Lady Gaga et Tony à The View
Posté le 26 novembre à 19 h 04 min par Nattie GaGavision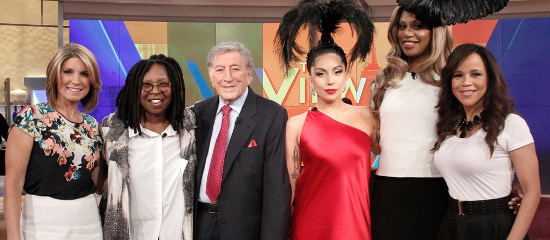 Lady Gaga ne semble pas décidée à prendre de vacances ! Après la fin de l'artRAVE le 24 Novembre, la promotion Cheek to Cheek démarrera visiblement de plus belle. En effet, cela vient d'être annoncé
sur Twitter
: Elle et Tony Bennett seront dans l'émission
The View
, la
semaine prochaine
! Le jour exact n'a pas encore été annoncé, mais nous vous tiendrons bien évidemment informés.

MAJ 25/11 : C'est demain (mercredi 26) que Gaga et Tony performeront à The View ; à noter également que Laverne Cox sera co-présentatrice pour cette émission !
MAJ 26/11 : Gaga et Tony ont parlé quelques minutes seulement avec les journalistes, avant de performer Cheek to Cheek ! Découvrez les photos et vidéos ci-dessous :
► Photos :





► Interview :

► Performance :

Lady Gaga en France – Partie 2
Posté le 26 novembre à 11 h 45 min par Sonya GaGavision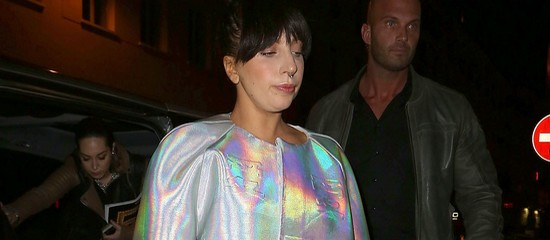 Lady Gaga est bel et bien de retour dans notre capitale française, elle a été aperçue dans les rues parisiennes aujourd'hui même. Retrouvez sur cet article toutes les photos prises lors de son séjour.
► Mardi 25 Novembre
– Gaga quitte son hôtel parisien





[Vidéo]
► Lundi 24 Novembre
– Gaga sort de son hôtel parisien





[Vidéo]
via Romain Vegas
– Puis se rend au VIP Room après l'artRAVE






[Vidéo]
– Elle en ressortira quelques heures plus tard





Lady Gaga's artRAVE – Paris (24/11)
Posté le 26 novembre à 11 h 05 min par Garance Gagavision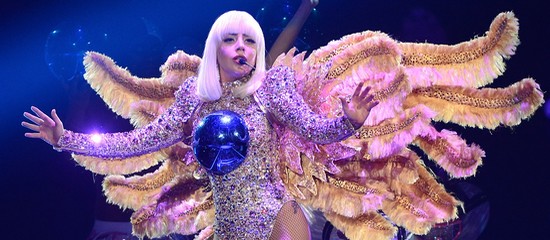 Après Newcastle c'est hier soir dans
notre capitale française
, à
Paris
que l'artRAVE s'est achevée.
Il est difficile de résumer avec des mots cette dernière date de l'artRAVE à laquelle certaines d'entre nous ont pu assister, nous vous proposons donc de découvrir ou re-découvrir le show dans son intégralité en HD 720p qui a été diffusé via un live stream sur le site Yahoo! Divertissement ci-dessous !


Qu'avez-vous pensé de cette dernière date ? Partagez vos impressions, vos ressentis & vos avis via les commentaires !
Projet Ballons – 24.11.14 à Bercy – MERCI !
Posté le 25 novembre à 21 h 42 min par Nattie GaGavision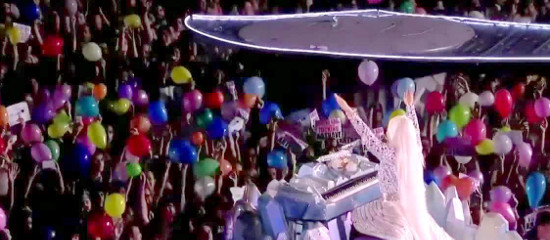 Comment commencer cet article autrement que par…
Merci
!
Cela fait une semaine que nous nous lancions dans un projet fou : réaliser une surprise « ballons » pour le dernier concert de la tournée de Lady Gaga, à seulement 6 jours du show…
Après des journées de promotion pour le projet, de recherche de ballons, de comptes (et re-comptes) des ballons obtenus, de nombreux messages de soutien de votre part et de celle des Monsters du monde entier… Après de longues heures de distribution de ballons devant Bercy, enfin ! Le moment tant attendu est arrivé ! Une pluie de ballons multicolores s'est abattue sur Bercy, devant une Lady Gaga très surprise et émue aux larmes. Ce fut un moment très fort pour nous, pour tous les participants, pour le public, et pour beaucoup d'étrangers tout autour du monde, qui admiraient via le LiveStream cette surprise colorée.
Nous tenons à vous remercier sincèrement d'avoir « joué le jeu » et d'avoir participé à cette belle surprise d'au-revoir à l'artRAVE. Un grand merci également à ceux qui ont acheté des petits stocks de ballons, à ceux qui ont fait passer le mot, à ceux qui nous encourageaient de chez eux. Merci aussi pour votre gentillesse et les compliments de plusieurs Monsters dans la file ou dans la rue ; s'il faisait plutôt froid, vos mots ont réchauffé nos coeurs !
De plus, des fans qui ont rencontré Gaga en Meet & Greet lui auraient apparemment reparlé des surprises du public et des ballons. Selon eux, cela lui a fait très plaisir, et elle était en effet très émue !!
Lady Gaga & Tony Bennett – It Don't Mean A Thing
Posté le 25 novembre à 12 h 05 min par Garance Gagavision
Après avoir révélé aujourd'hui la publicité pour la campagne H&M Magical Holidays, Lady Gaga & Tony Bennett viennent de sortir le 4ème single et clip de « Cheek to Cheek » qui n'est autre que « It Don't Mean A Thing (If It Ain't Got That Swing) » ! Découvrez le ci-dessus !
Que pensez-vous de ce clip ?
Lady Gaga en After-Show au VIP ROOM
Posté le 25 novembre à 11 h 52 min par Sonya GaGavision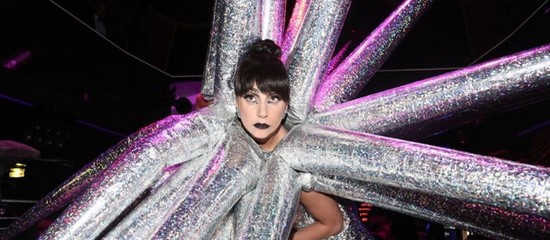 Presque 6 ans après avoir y avoir donné un showcase inoubliable, Gaga s'est rendue au VIP ROOM à Paris et a rejoint Lady Starlight qui y donnait un After-Show. Elle a interprété le titre Do What You Want durant cette soirée. Retrouvez quelques photos et une vidéo ci-dessous :


,